The iPad has long dominated the tablet world, but the winds are shifting. Samsung's market share has grown from 7.3 per cent in 2012, to an impressive 20.6 per cent in 2023. Apple's still ahead at 37 per cent, mind, but the numbers show its competition is catching up – and Samsung is very much the manufacturer preparing to snap at its heels.
That's because Samsung is one of the few Android tablet manufacturers that produces high-end, beautifully designed tablets that can truly hold their own against the sleek and powerful might of the iPad. The Galaxy Tab S9 range (there's also the larger, more expensive S9+ and S9 Ultra models available), is the latest generation of Samsung's premium Android tablet efforts, and there's plenty to love.
The Tab S9 has a beautifully slim build, plenty of power, a stunning screen (AMOLED, which is a first for the entry-model range), and all the bells and whistles that the included S Pen provides. In short, it's one of the best premium Android tablets around, and, from my experience during testing I reckon it's one of the best overall tablets, period.
If you want power, design, and features rolled into a compact form factor that's not as gigantic as, say the larger Tab S9 Ultra, the Tab S9 should definitely be near or at the top of your shortlist — if you're willing to pay the rather hefty $799/£799 asking price that is.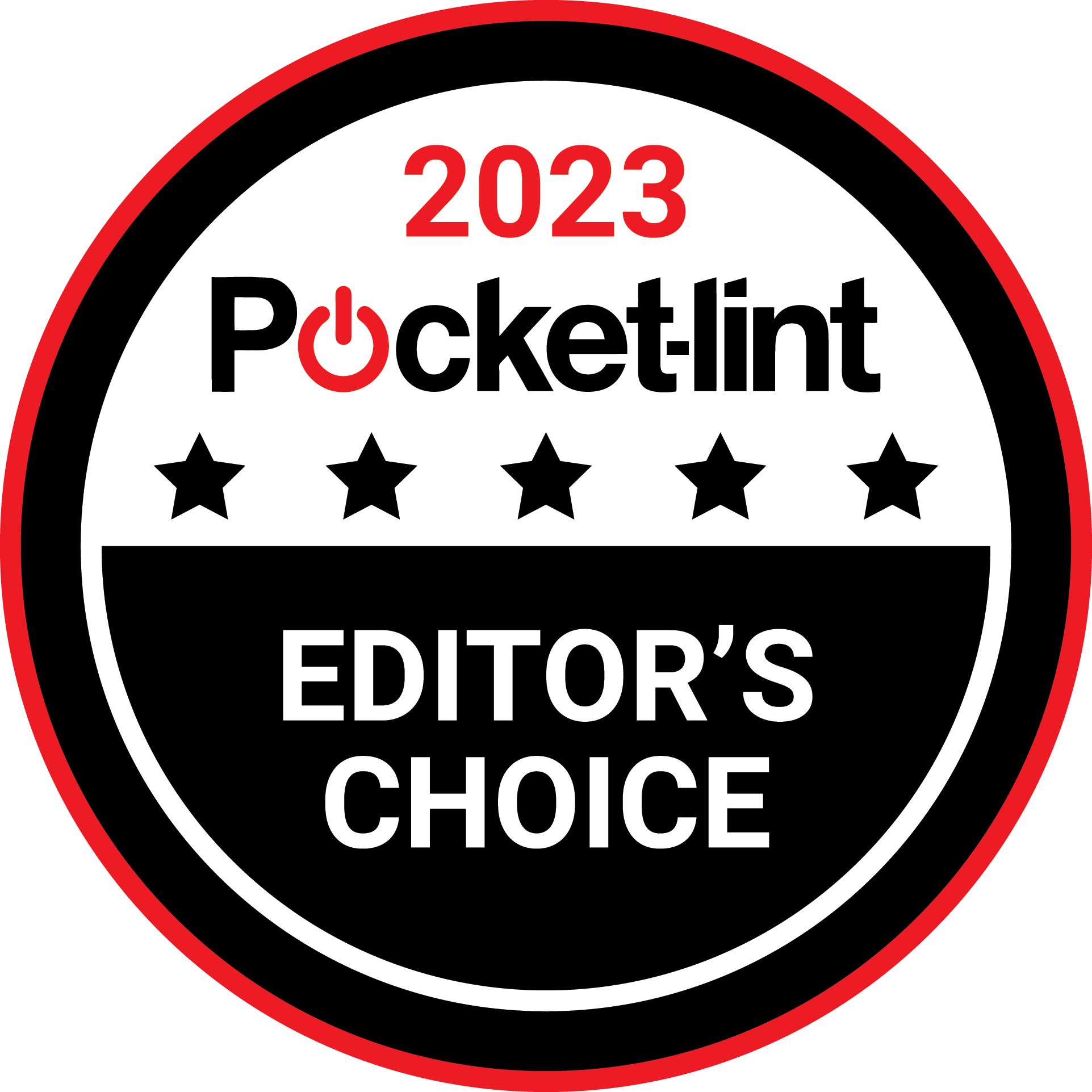 Samsung Galaxy Tab S9
Editor's Choice
One of the best tablets money can buy, the Tab S9 gets practically everything right. Its stunning AMOLED screen is large enough to enjoy content, but small enough for easy portability. Combined with the creative powers of the bundled S Pen and its quality speakers, this is a premium tablet that should definitely be considered by those with suitable budgets.
Pros
Stunning, bright, colourful screen
Beautifully slim, but durable build
Loud, crisp, spatial quad-speaker setup
S Pen offers plenty of extra functionality for creatives
All-day battery life and plenty of power
Cons
Expensive
No backwards compatibility with Tab S8 keyboard dock
Design
The Galaxy Tab S9 is, appears to be near-identical to its Tab S8 predecessor. This is not a bad thing. Delightfully thin and light, it feels every bit as premium and luxurious as an iPad, with a feeling of great sturdiness, despite its thin profile.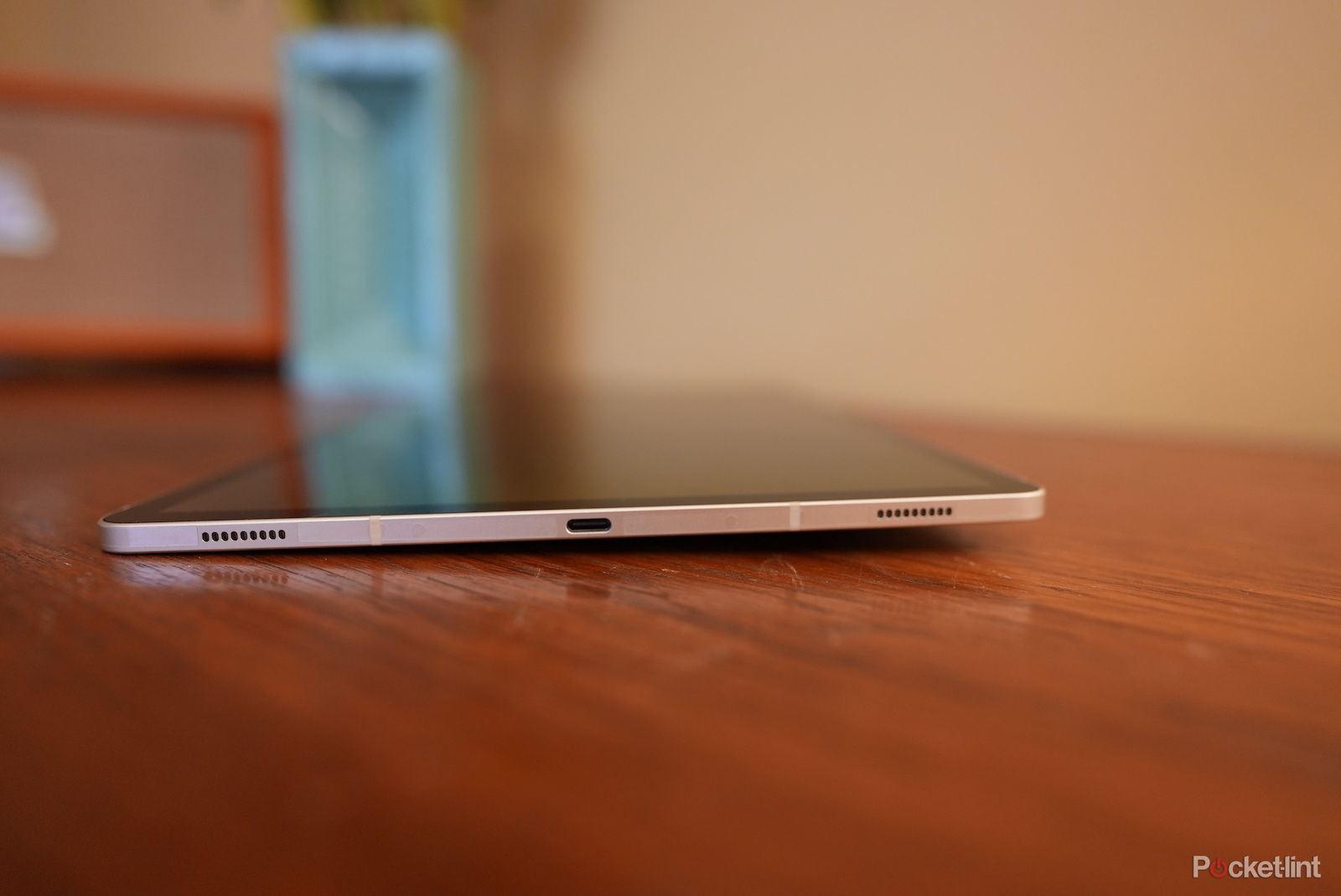 Better yet, it's also got the honour of being Samsung's first water and dust-resistant tablet, with an IP68 rating providing extra peace of mind for those with overly curious cats and/or toddlers in their house. Having lost a few electronic items due to carelessly spilled glasses over the years, this extra layer of protection is a very welcome bonus.
Elsewhere, you've got the usual volume and power buttons, a USB-C port, four excellent stereo speakers (more on those later), a front-facing selfie cam, and a rear camera cut-out. The latter might disappoint some potential owners-to-be for a few reasons.
For starters, the Tab S9 has dropped the S8's ultrawide camera, so it's just a single one at the back. Personally, I'm not fussed at all, given that the only tablet camera I tend to use is the selfie one for video calls.
One more annoying disadvantage though, is that the different camera cut-out contributes to the fact that the Tab S9 isn't backwards compatible with Tab S8 accessories like the keyboard dock, which seems incredibly wasteful if you're an S8 owner looking to upgrade. Granted, these two issues won't affect the majority of readers, but if you're in that niche, it's something to be aware of.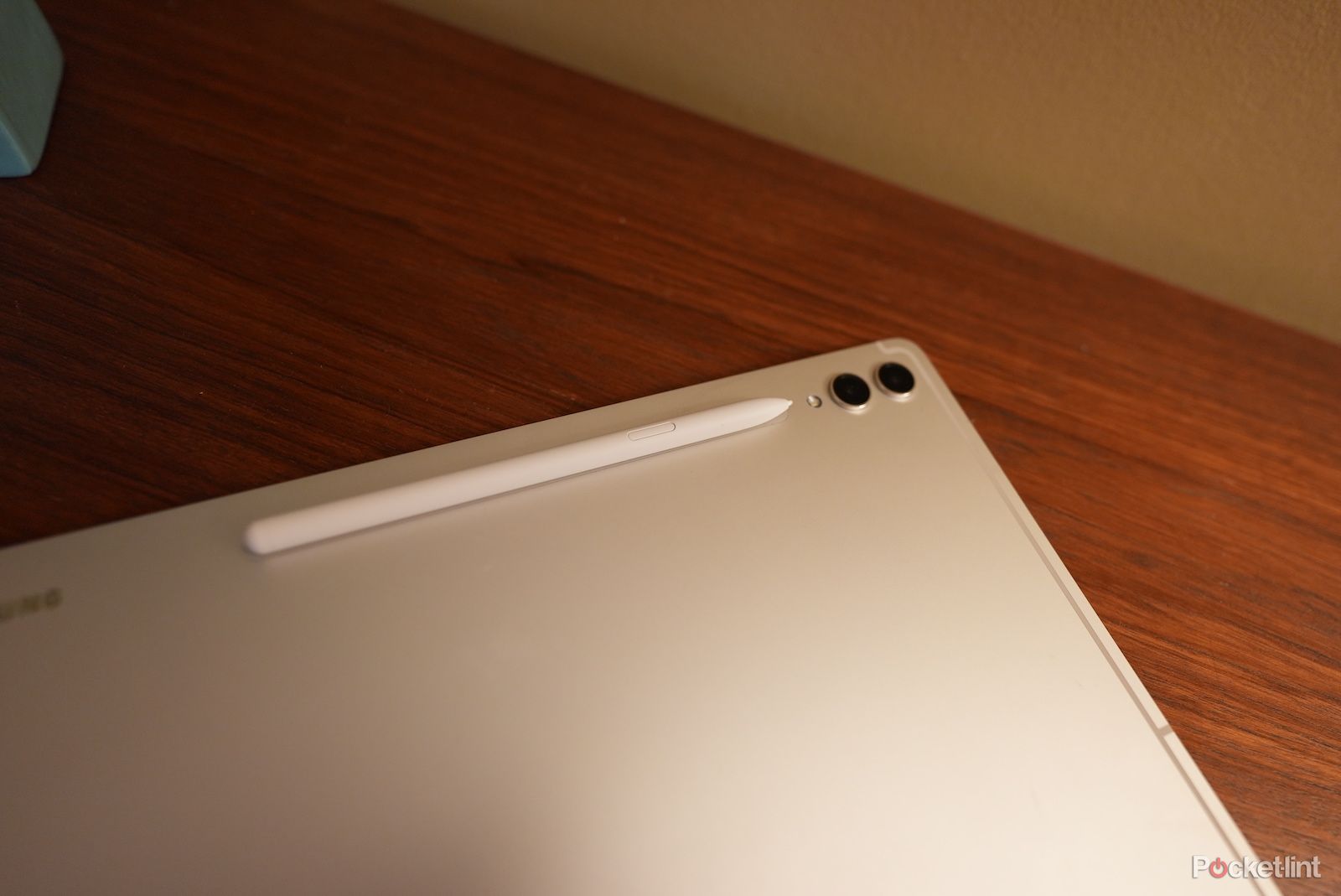 Also on the rear, is the S Pen charging strip, which is a thin, flush magnetic section on which the bundled S Pen can satisfingly snap into place for charging and storage. It's a strong enough attachment that you should be able to comfortably toss it around without fear of it falling off, and works flawlessly.
Display
The display is where the Galaxy Tab S9 (quite literally) shines. It's bright. Incredibly bright. And given its AMOLED nature, serves up deliciously bright, vibrant, and punchy colours, with true blacks to boot. Everything from gaming and videos, to web browsing and general app use looks superb, and it's a genuine joy to use.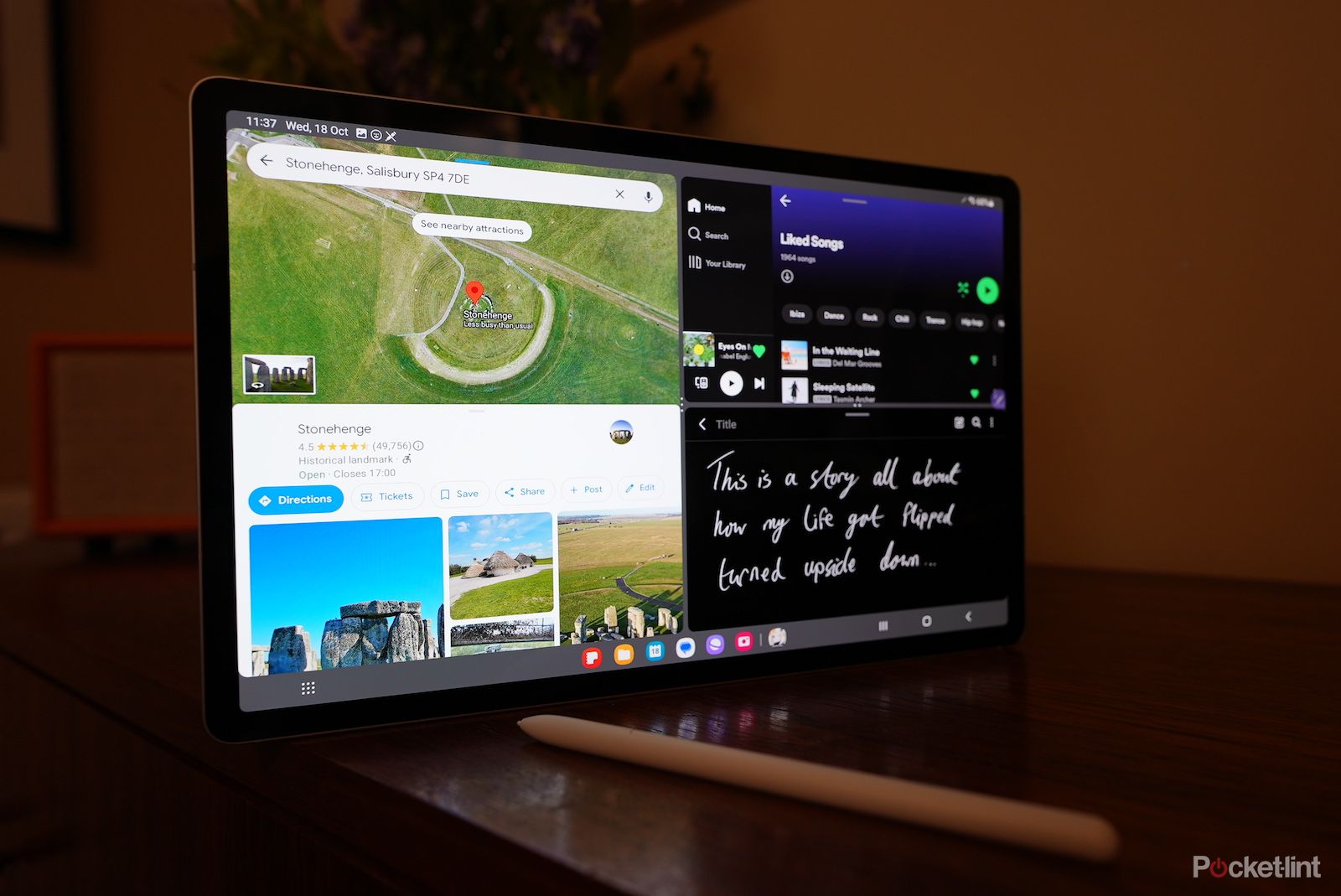 Its diminutive 11in size, coupled with its thin, lightweight body, make it easily portable too. Far more portable than, say, the hulking 14.6in display on its Tab S9 Ultra sibling. As far as I'm concerned, the Tab S9's 11in screen size hits the sweet spot for both size and portability, while its slick 120Hz refresh rate provides a fluid experience whether you're scrolling through apps or gaming.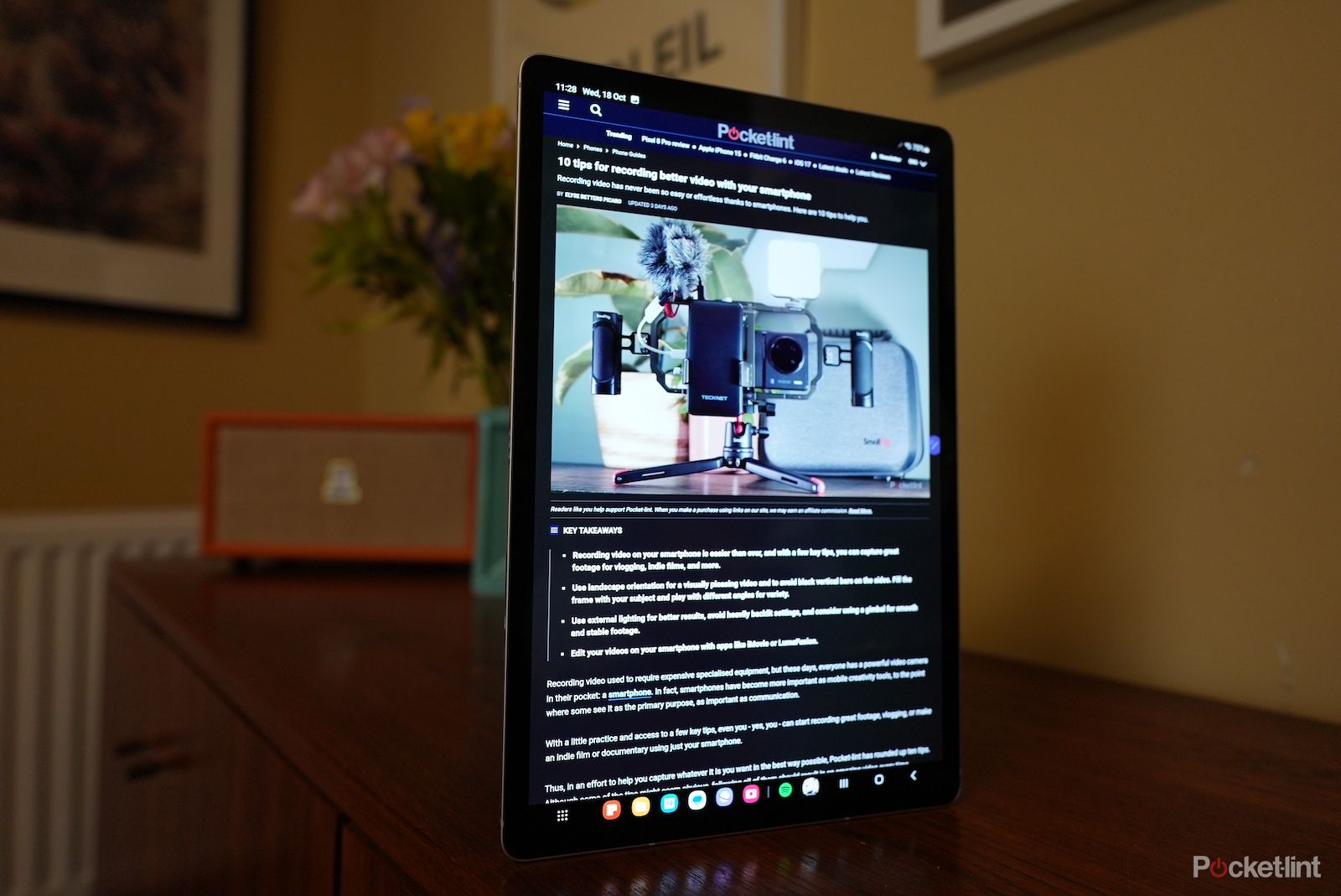 This is all rather important, because this is the first time that the smallest or entry-level product in the Tab range has landed with an AMOLED screen. The Tab S8's LCD screen doesn't come close to the impact that the S9 offers, and it's nice to know that you don't have to fork out extra cash for the S9+ or S9 Ultra to bathe in AMOLED's warm, soothing waters.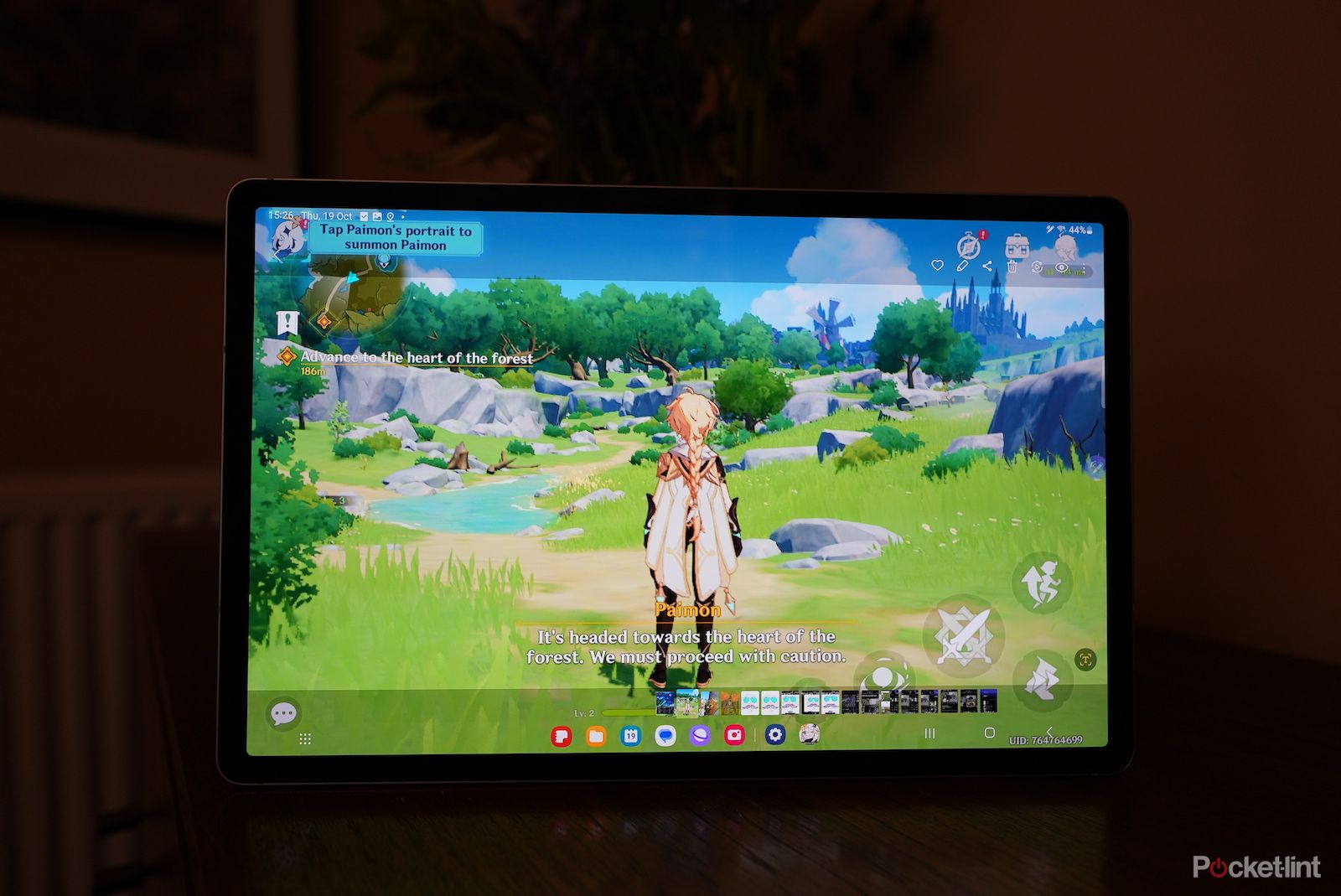 I should note that the S9 is launching for around $100/£50 more than the Tab S8 did, but considering how the screen is one of the most important factors of any tablet, this is an increase that I think is absolutely worth it.
Performance and battery life
The Galaxy Tab S8's Snapdragon 8 Gen 2 processor, combined with either 128GB/8GB or 256GB/12GB storage and RAM options place it firmly in the high-end category when it comes to power. The model I tested was the 5G version with 256GB storage and 12GB or RAM, and there's not much to say about its performance beyond the fact that it breezes through everything I care to throw at it.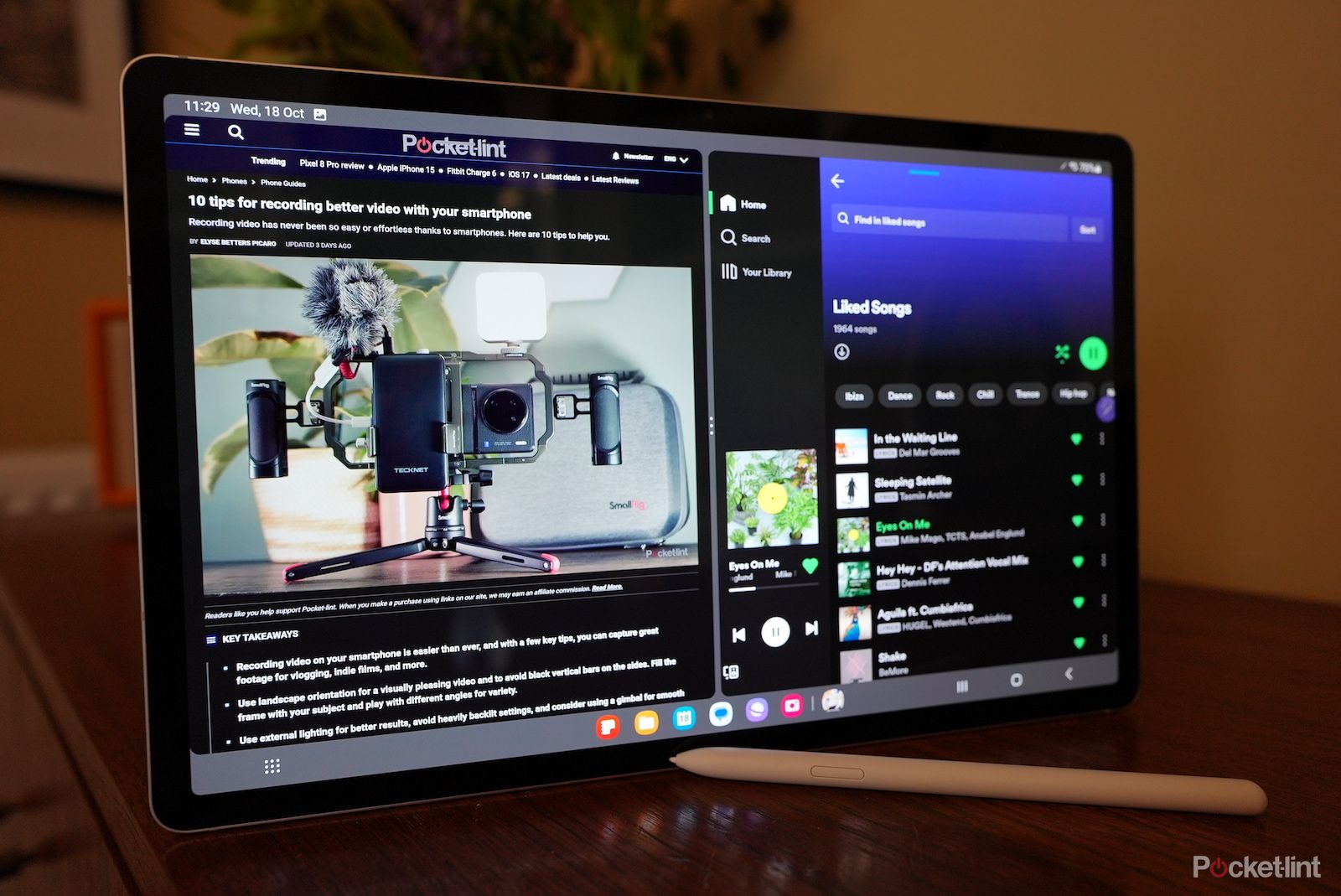 From demanding games like Genshin Impact, to streaming videos, sending emails, listening to music (often all at once), and more, there's been no hint of stutter or lag in my entire time with it. Android 13 with Samsung's One UI overlaid on top runs flawlessly on the Tab S9's hardware, and that includes the useful ability to have up to three apps on the screen at any one time for some true multitasking action.
Even the various extra S Pen features, like drawing, doodling, notetaking, screenshotting, translating, and more, failed to cause any hiccups in the smoothness or power department. In use, it feels intuitive, and the act of scribbling down notes or drawing (in my case, terrible) doodles feels fun and purposeful. The fact that it's included in the box is a massive bonus for creative types who can maximise its full potential.
As for battery life, Samsung states up to 10 hours of internet usage on Wi-Fi, or up to 15 hours of video playback. While I didn't do stringent video-only or browsing-only tests, I can say that I've been hammering the Tab S9 pretty hard throughout the past week, and it's comfortably lasted an entire day or two in between charges. It'll depend on your use case, of course, but you can rest assured that while it might not offer the longest tablet battery life in the world, you won't be disappointed, even if you're a power user.
Sound
The speakers on the Tab S9 deserve a special mention, because they're some of the best tablet speakers I've heard. A quad-speaker setup with two speakers on either end, the audio experience is surprisingly loud — more than enough to fill a room and jam out to some tunes while cooking.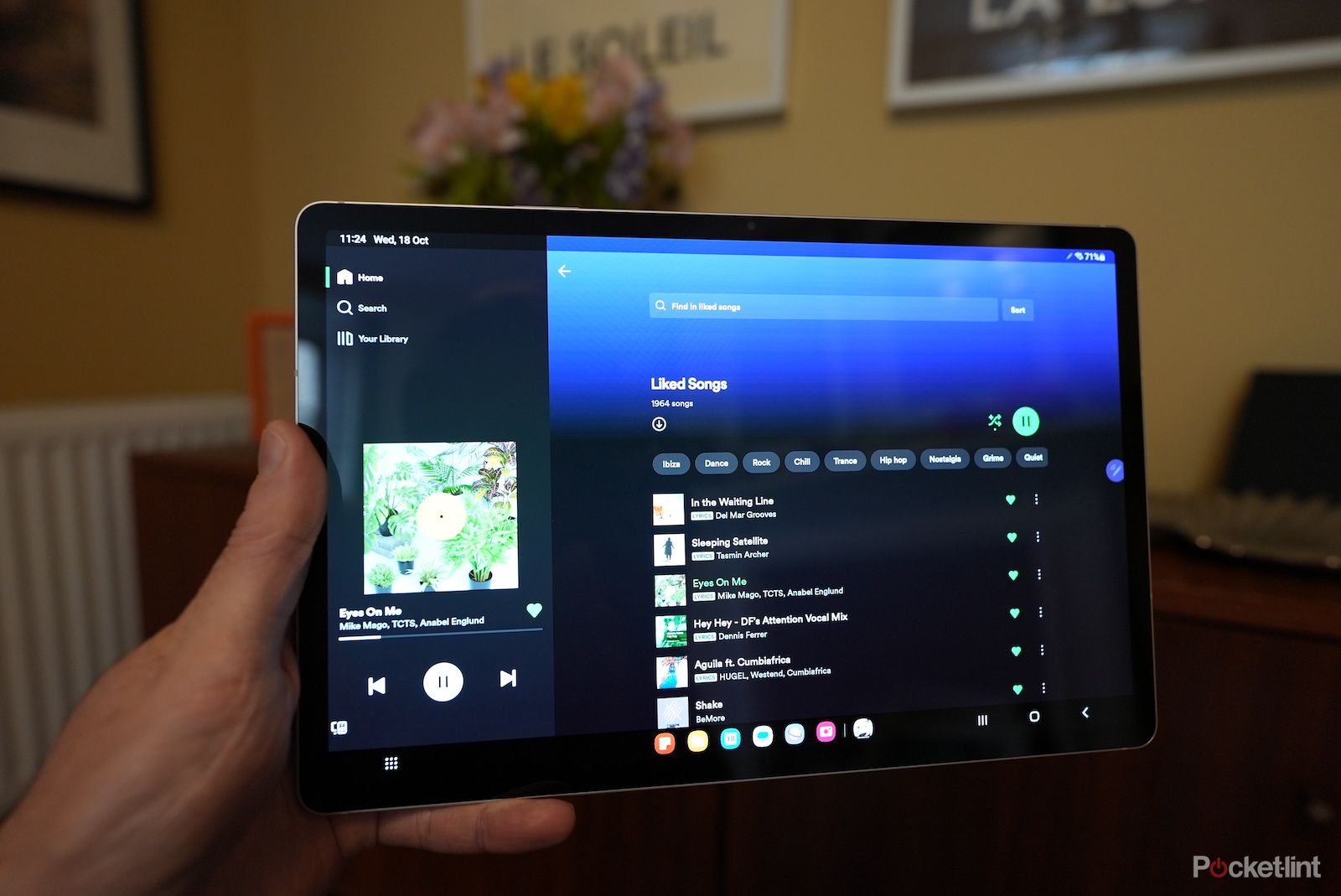 Despite the slim form factor, the audio is crisp and loud, without sounding tinny. Not only that, but the sense of spatial stereo when holding it in your hands is rather remarkable. Songs and media take on a wide, airy quality which I absolutely love.
The only caveat, is that when held in landscape, you have to purposefully hold it in such a way that the bottom two speakers aren't covered by your palm. This is fine for short sessions, but might get uncomfortable for long periods without a tablet stand or kickstand case.
Camera
I've yet to meet someone who views camera performance as one of the top criteria for choosing a tablet, and I personally never use the rear cameras on any tablet, as any smartphone you're likely to have will do a far better job, in a much less awkward form factor. That's why the previously mentioned loss of the Tab S8's rear ultrawide camera isn't a big deal in my books.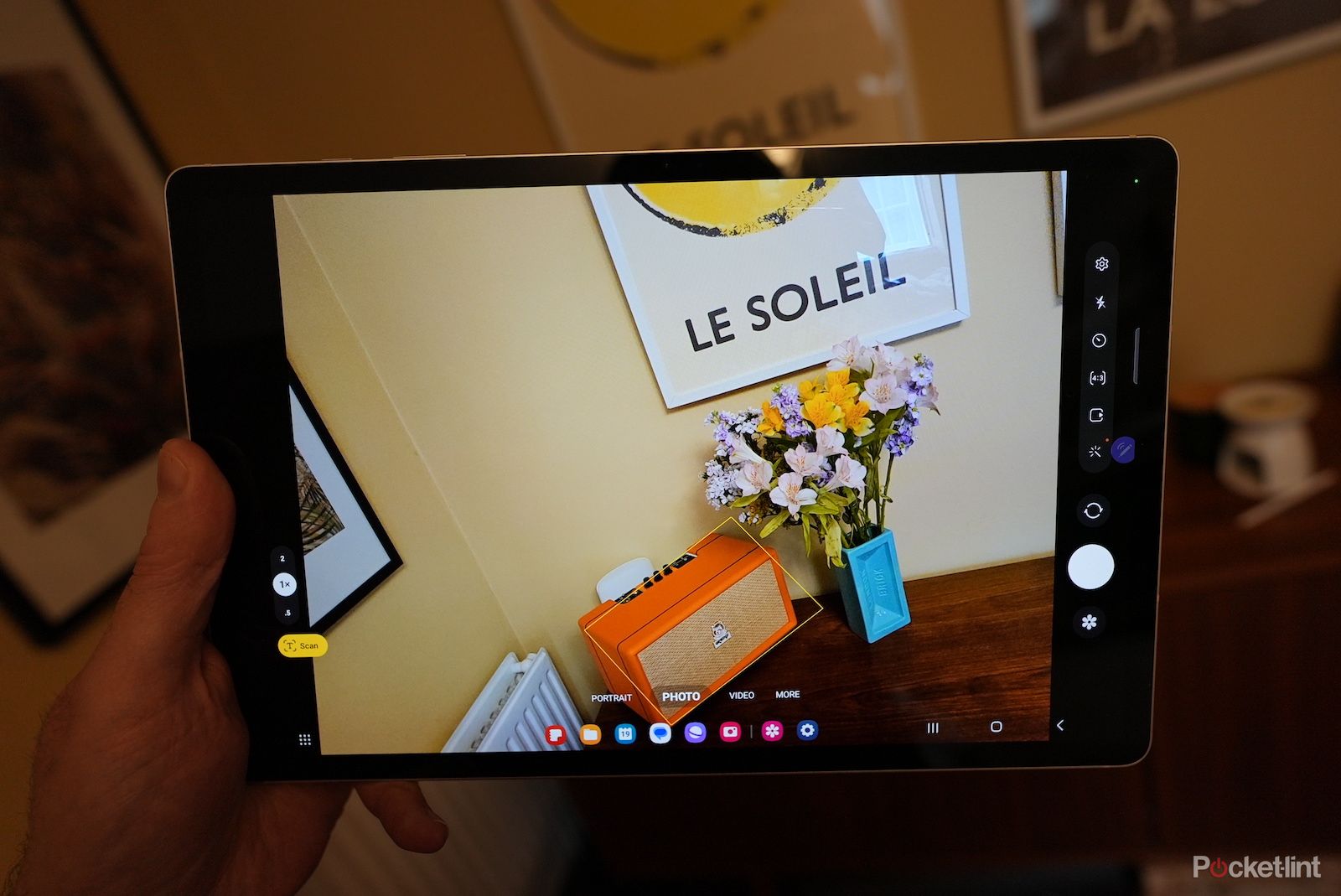 Having said that, the rear 13MP camera on the Tab S9 will reward you with clear, sharp shots if you happen to take them, and the ultrawide selfie cam is great for video calls, especially if you're trying to cram in a few faces on the couch.
Verdict
The Galaxy Tab S9 gets practically everything right. A premium, portable, sturdy design, an absolutely delightful screen, performance in spades, all-day battery life, and seriously impressive sound. The only thing that makes me hesitate automatically recommending it to everyone, is its price.
Starting at $799/£799, there is definitely no shortage of cheaper Android tablets out there. If you're just looking for a non-Apple tablet to watch films, play some games, and shoot some emails while browsing the web, I reckon you could save yourself a few hundred pounds with a cheaper option, like the OnePlus Pad or even the older Tab S8.
For those who want iPad-like quality (and don't want to dive into the Apple ecosystem), then I have no hesitation in recommending the Galaxy Tab S9, even over its more expensive S9+ and S9 Ultra siblings. The inclusion of the S Pen unlocks a whole world of powerful creative potential for those who have the skills to wield it, while its compact form factor and general superb overall performance will let you enjoy all it has to offer, wherever you are.
Source link