The 55-inch OLED808 is part of Philips' 2023 8-Series family, which also comprises 48-, 65- and 77-inch models. It may not be the flagship model for this year, but there are two big reasons to pay attention to this particular Ambilight TV.
Firstly, it employs the latest P5 picture engine, the 7th Gen P5 AI, which features improved Ambient Intelligence and a slew of new picture improving wizardry. Secondly, it uses OLED EX panel technology, which pre-MLA (Micro Lens Array, technology used in the much pricier LG G3), was about as good as OLED got.
There are or course, many other attractions onboard – plus the inevitable caveat or two considering the price. I've had it on my testing bench for the past week or so, and here's how I've got on.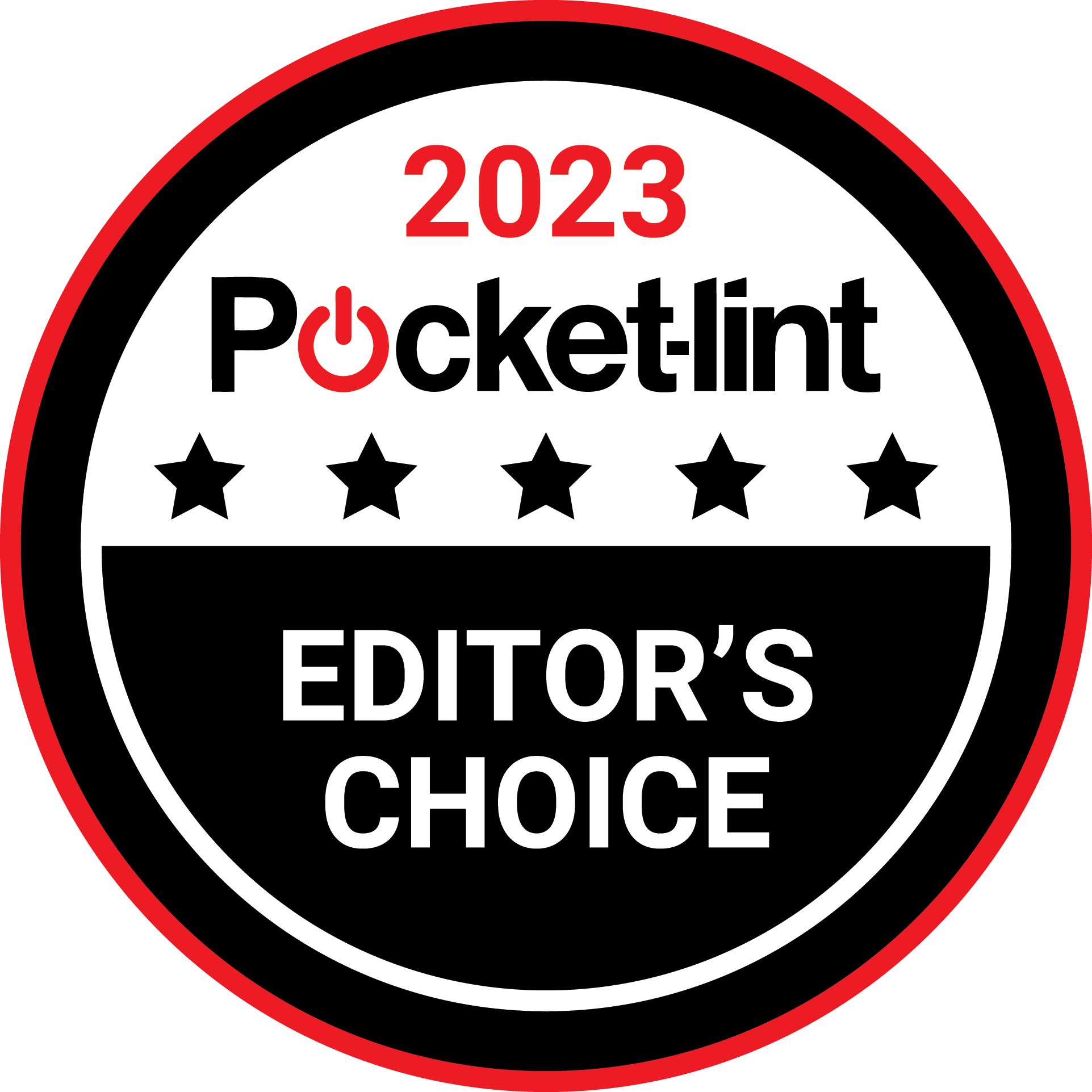 Philips OLED808
Editor's choice
It may not be Philips' flagship TV, but this advanced 8 Series 4K model won't leave you wanting. It looks gorgeous, offers sublime image quality and has enhanced Ambilight, which looks as gorgeous as ever.
Pros
Dynamic HDR picture performance
Superb design
Google TV OS works well
Cons
Only two HDMI inputs support 4K/120HZ
No Freeview Play
Missing mainstream catch-up TV players
Specs, pricing and availability
Available now, the Philips 55OLED808 sells for £1,799 (although savvy deal hunters should be able to find it for less) in the UK, and €1,590. Owing to the complexities of brand licensing, this model, which is made by TP Vision, is not available in the US, Canada or Australia.
Philips OLED808
Dimensions

1225 x 773 x 230mm

Display Technology

OLED

Refresh Rate

240Hz

Resolution

4K (3840 x 2160)

HDR?

Yes, HDR10, HDR10+ Adaptive, Dolby Vision, HLG

Ports

4 x HDMI (2 x4K/120Hz), 3 x USB, 1 x optical, 1 x ethernet

Weight

18.3kg (without stand)

FreeSync

Yes, Freesync Premium Pro

G-SYNC

Yes

VRR (Variable Refresh Rate)

Yes

ALLM (Auto Low Latency Mode)

Yes

Screen sizes (inches)

43, 55, 65, 77 inches
Design
Always a strong point of Philips TVs, the design of the OLED808 warrants admiring glances. Gloriously thin, the razor thin, zero bezel panel is presented in a dark metal frame, and sits on a central, rectangular metal satin chrome stand, with a generous amount of swivel.
The protruding back panel is home to audio hardware and general connectivity. It's also where you'll find a three-sided iteration of Ambilight, here in next-gen guise with improved colour-matching accuracy, thanks to a new RGB sensor, and an extended menu of visual styles. It looks as good as ever, and remains a huge selling point for Philips TVs.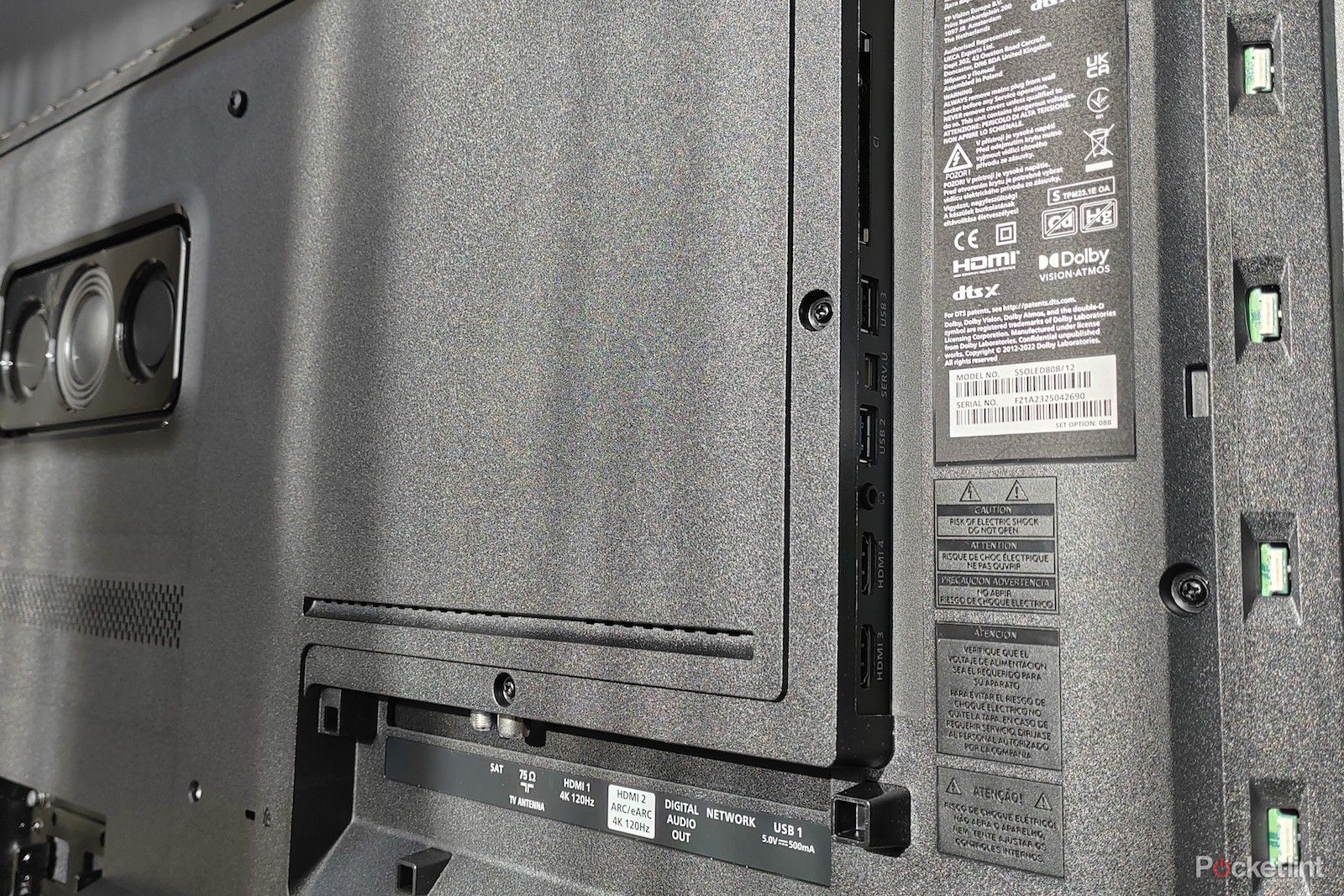 Connectivity comprises four HDMI inputs. Inputs 1 and 2 are 4K/120Hz compatible, with HDMI 2 forming the ARC/eARC connection.
There's also a digital optical audio output, a trio of USB ports, a headphone mini jack, and a CI bay for those that need one. The panel has both terrestrial and single satellite tuners, which I'll touch on more shortly.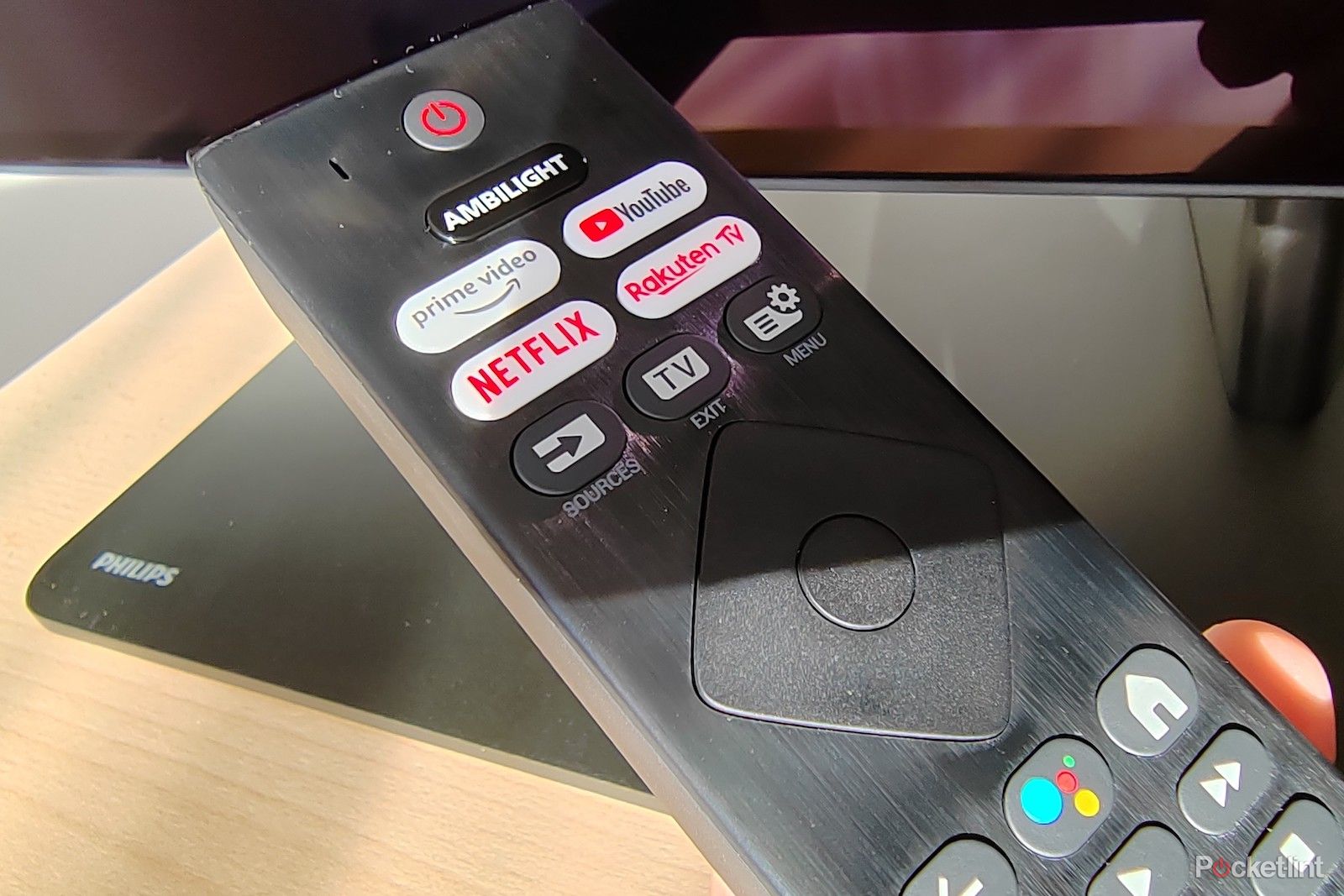 The OLED808 ships with a slim, black Bluetooth remote control. In addition to a nice hairline finish, there are dedicated buttons for Ambilight, Prime Video, YouTube, Netflix and Rakuten TV.
Features
The smart platform of choice for Philips this season is Google TV, the content-centric sibling of the more common Android TV OS. Full screen, it's an easy enough interface to live with.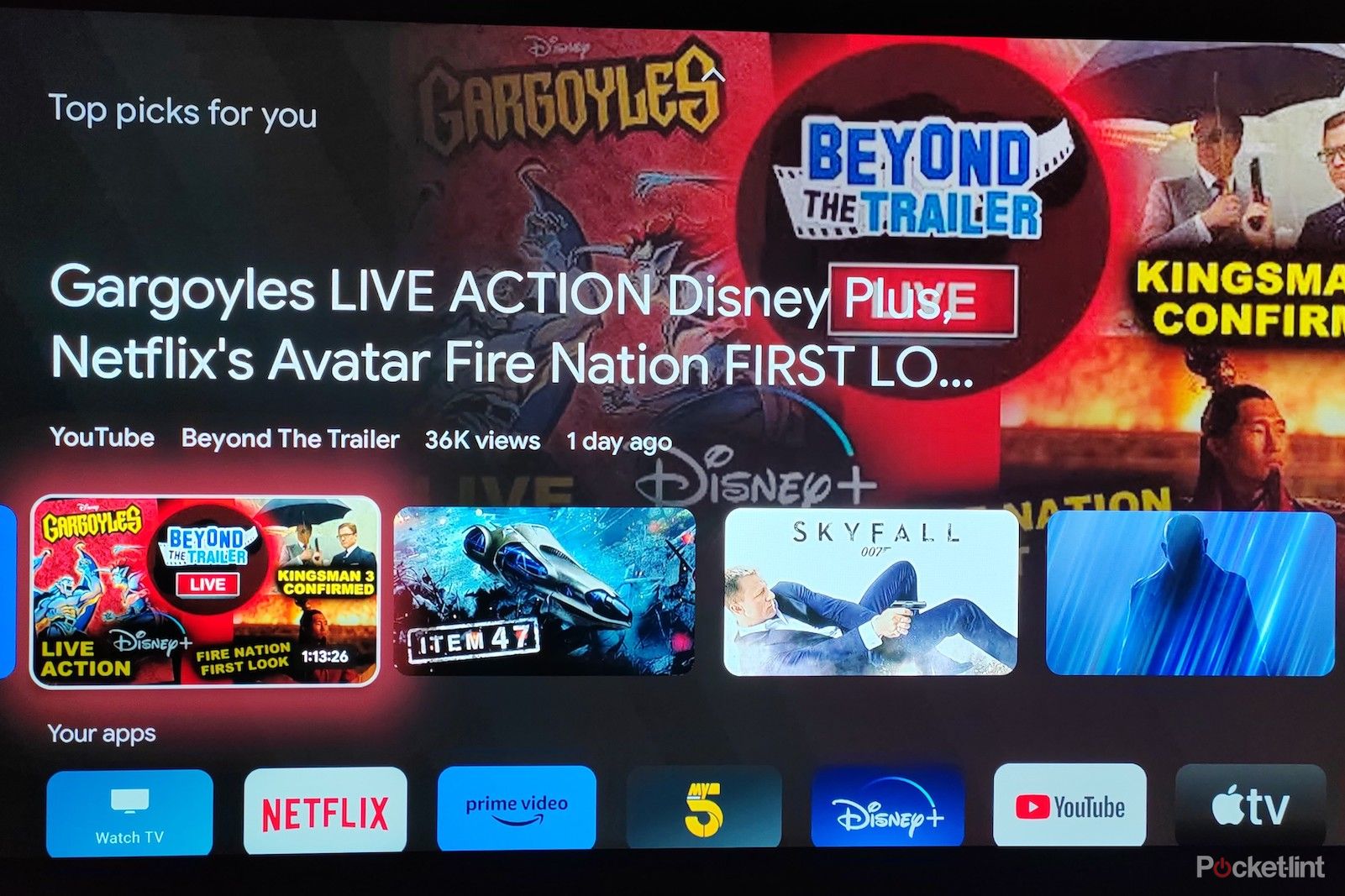 As the set runs Google TV, there's no provision for Freeview Play at the time of testing. Also missing are BBC iPlayer, ITV X and Channel 4 catch up apps. These may well turn up in due course, but the hopefully you'll be using an external TV box, like Sky Q, or streaming device like a Fire TV Stick 4K Max, that will have them, so while disappointing, it's probably not a total disaster.
Philips has ramped up support for gamers on the OLED808. There's not only a dedicated gaming UI (accessed via a long press on the Menu button), but also provision for Dolby Vision 4K/120Hz playback, VRR support for 4K at a full fat bandwidth of 48Gbps, as well as FreeSync Premium and G-SYNC compatibility. There's also Auto Game and Auto-Low-Latency modes as standard.
Latency is good in Game mode. I measured input lag at just 12ms (1080/60), which isn't market leading but does the job. Playing Overwatch in 4K/120Hz is buttery smooth, with outstanding definition and colour vibrancy.
Usability is fine too. Philips has done much to simplify its menu navigation system over the past few years, to the point now where you might rightly describe it as intuitive.
There's a Quick Menu, which offers uncluttered access to a TV guide, connected sources, and Aurora, a relaxing viewing mode that plays animated scenes and JPEGs. If you've ever felt the need to unwind with undulating jellyfish, it'll be right up your wellness street.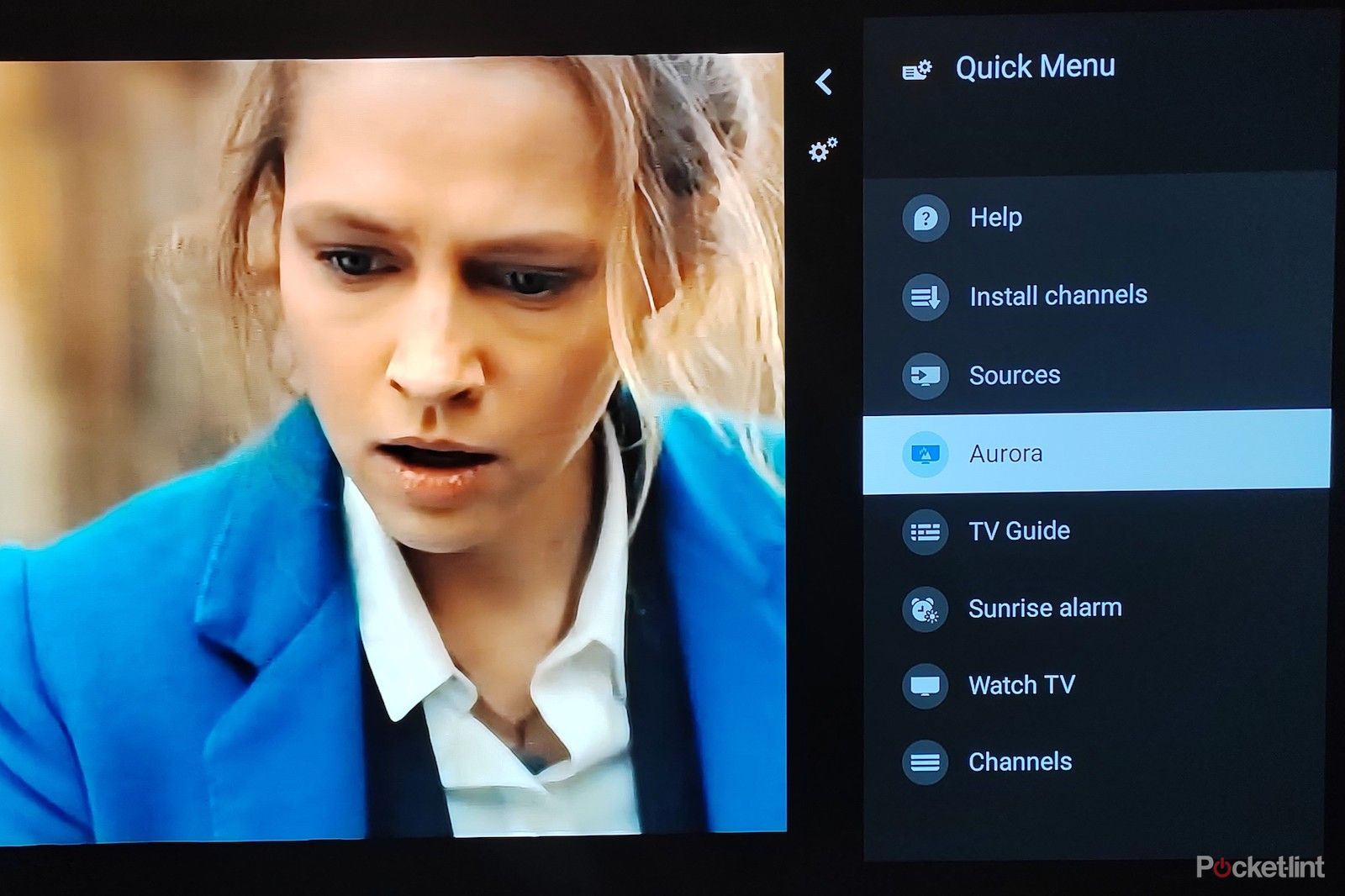 As has become commonplace with Philips, HDR support is universal. The set is compliant with HDR10, HLG, HDR10+ Adaptive and Dolby Vision. This gives it an obvious edge over immediate OLED rivals from LG and Samsung, as they do not play ball with all HDR protocols.
There's also codec support for both Dolby Atmos and DTS:X immersive audio streams, the latter hitching a ride on Philips DTS Play Fi compatibility bandwagon.
Play-Fi, if you don't know, is an interoperable audio streaming platform that supports multiroom audio and wireless home theatre. Think of it as an alternative to Sonos and Denon's Heos. It's probably bigger in the US than other territories, which is odd considering where Philips sells its TVs, but does appear to be gaining some traction over here too.
Picture performance
The OLED808's images don't require much TLC to look spectacular. Straight from the box, the screen wows with deep, wide colour, inky blacks, bright highlights and subtle shadow detail.
When you opt to watch HDR10 + Adaptive content, you're served a choice of HDR Personal, HDR Crystal Clear, HDR Cinema, HDR Filmmaker and HDR IMAX Enhanced picture presets. Choose Dolby Vision, and you get a similarly themed selection. Dolby Vision Bright seems to make the best use of the panel.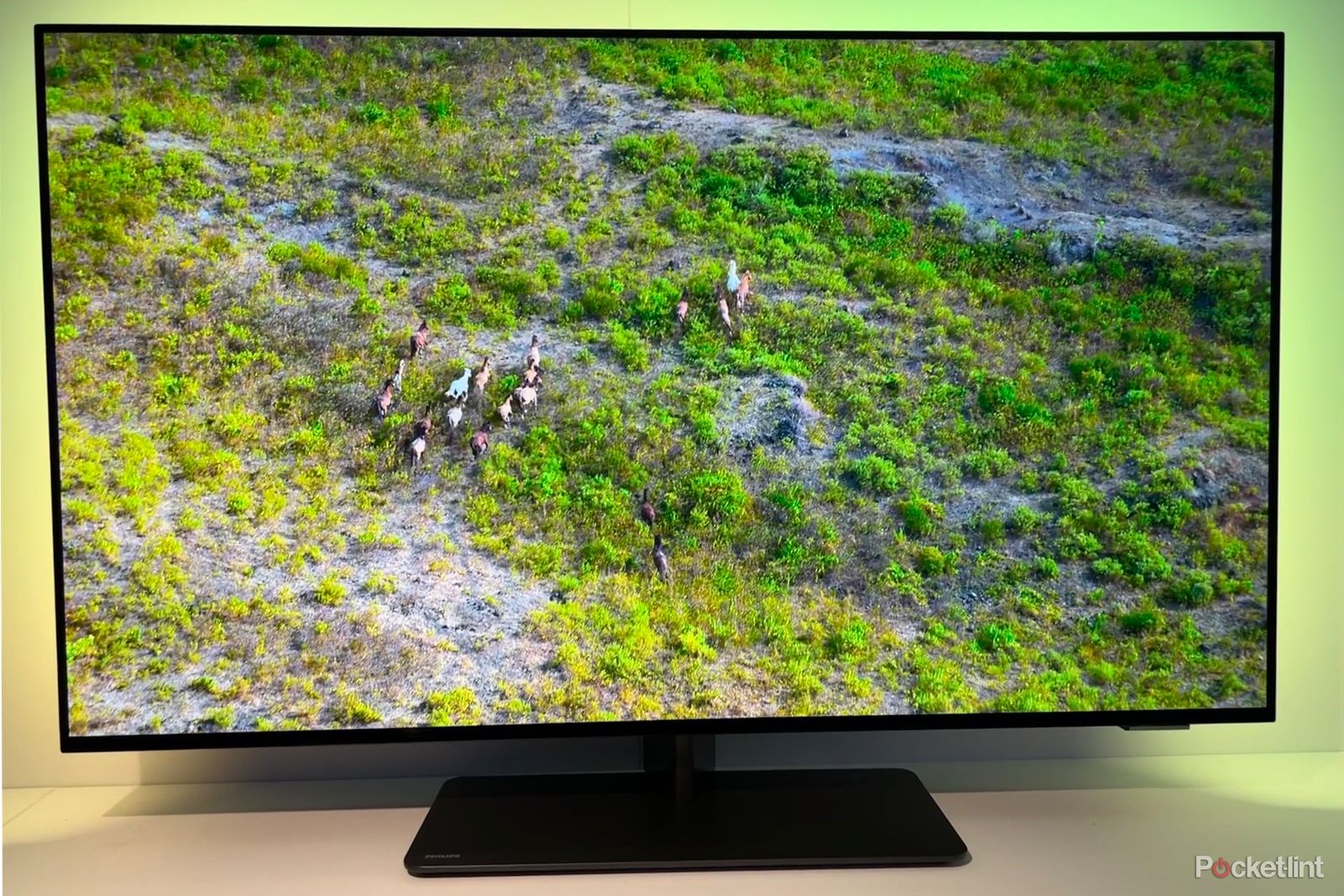 There's also an HDR Game mode and dedicated Calman calibration setting, for those that want to get down to the nitty gritty.
As it happens, the OLED808 is an excellent HDR performer. I measured HDR peak brightness at just over 1000 nits using a 5 per cent measurement patch, when engaging the HDR Crystal Clear image preset.
On a larger 10 per cent window, the set was measured at just over 900 nits. That's can't touch the likes of Mini LED screens like the TCL C845K, but does just about beat the likes of its OLED competition, the LG C3, and the Sony A80L.
Philips is leveraging plenty of AI with its current silicon, and getting excellent results. It's well worth taking a deeper dive into this menu selection to get the best from it.
Ambient Light Level Optimization, which automatically adjusts the brightness of the display according to room lighting conditions, and Dark Detail Optimization, which extracts darker detail when viewing in bright ambient lighting conditions, are powerful tools.bThere's even the option to optimise colour temperature, again by based on ambient light.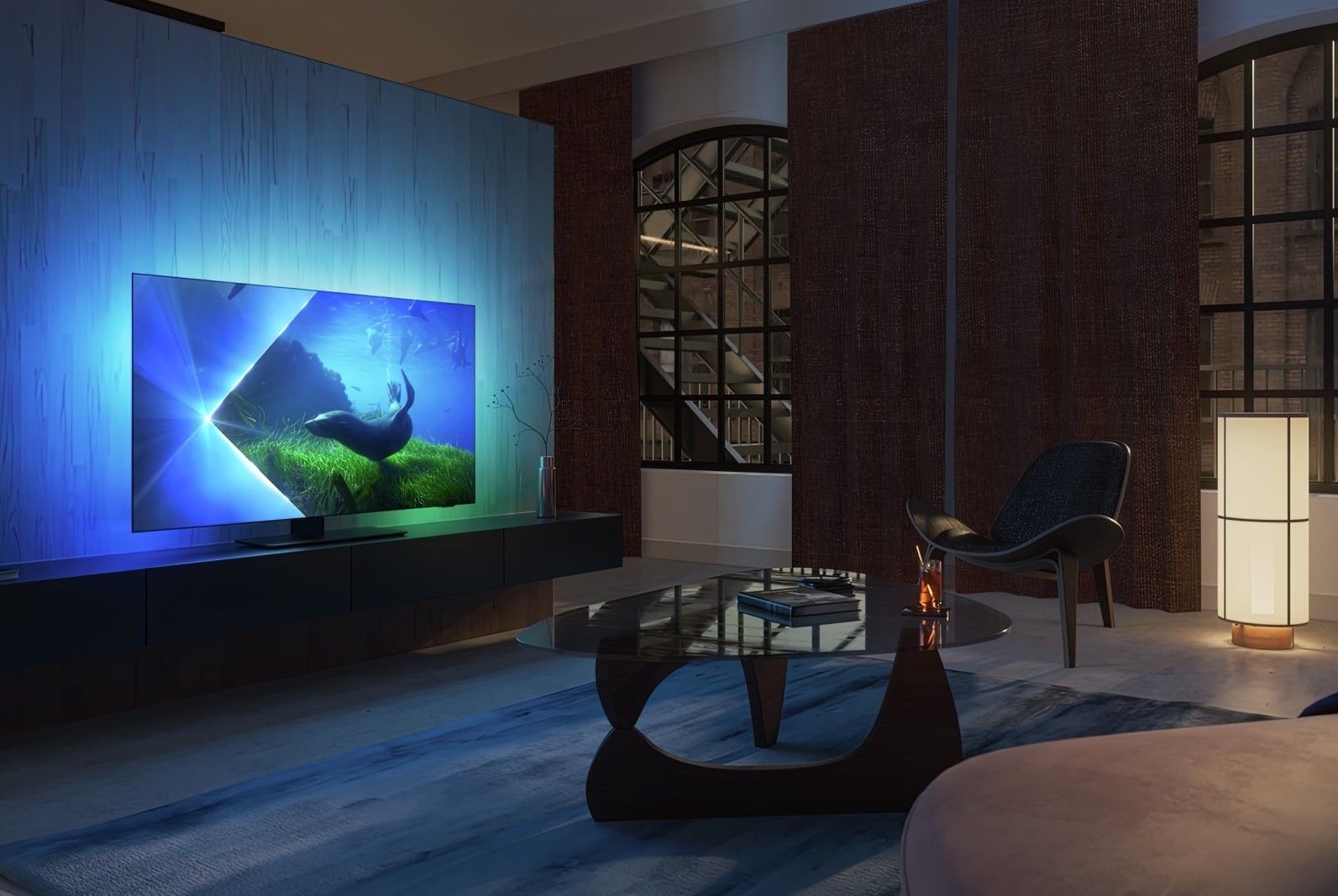 Philips
I found Dark Detail Optimization to have the most pronounced effect when watching dimly lit scenes, such as those which dominate Prime Video's John Wick spinoff, The Continental.
Many sequences in the show are exceptionally darkly lit and difficult to view in relatively high ambient light. Dark Detail Optimization lifts textures and shapes from their surrounding backgrounds without overly brightening the picture.
As mentioned, colour vibrancy and reproduction are both exceptional, and there's a richness to the set's presentation. Deep reds and nuanced blues in particular are spectacular with animated movies.
Sound performance
While the OLED808 lacks the refinement of Philips collaborations with Bowers & Wilkins in its flagship sets, like the OLED907+, it's still a surprisingly satisfying listen. The soundstage is generously proportioned and doesn't suffer too heavily from the lack of directionality of its speaker complement.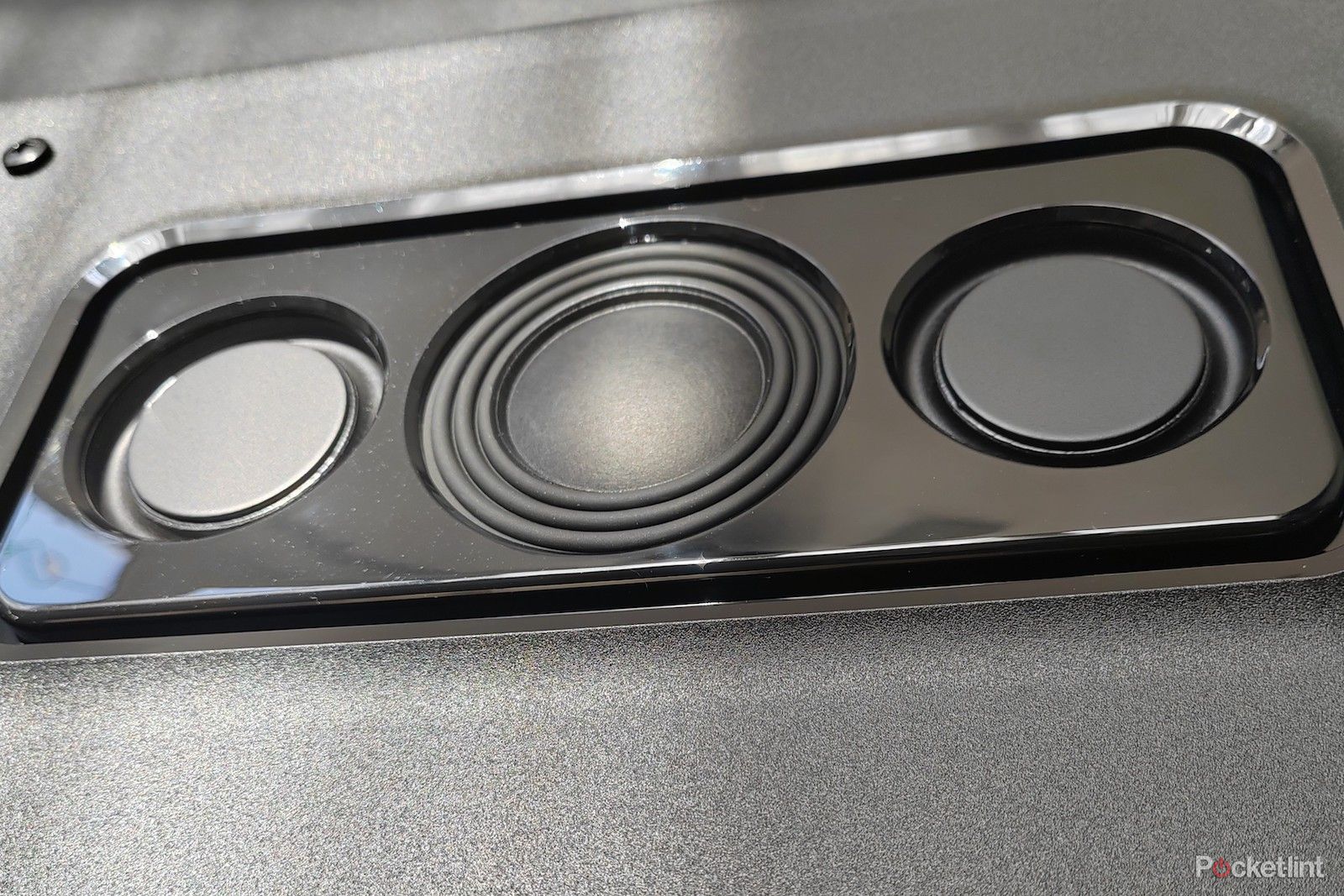 The OLED808 may only have a 2.1 speaker configuration, with a downward firing stereo pair, but it actually sounds very good. For one thing, it plays loud without overt distortion, thanks to 70W amplification. The brand says it's taken great pains to smooth out the crossover between its stereo speakers and the dedicated triple ring, rear-facing bass driver, and overall, I'd say it's been a success.
Of course if you want to make more of Dolby Atmos-encoded TV shows, then take advantage of the eARC HDMI output, and bitstream to a compatible soundbar or home cinema receiver.
Verdict
The Philips OLED808 is a slick and impressive TV that barely puts a pedestal foot wrong.
The razor thin design is a head turner, and the inclusion of Ambilight will win it interior design kudos. The real star of the show, though, is the combination of OLED EX panel and AI enhanced picture processing, which delivers some top flight imagery.
The only significant downside is the limitation of High Frame Rate HDMI across its four inputs. Having just two 4K/120Hz-capable inputs is annoying enough, but losing one of these to eARC is a royal pain for largers setups.
Still, when it comes to the upper-mid range 4K OLED market, you'll struggle to find a better-rounded screen, and it comes highly recommended.
Source link