People who have diabetes along with elevated blood sugar levels face a significantly higher risk of being hospitalized with severe illness from COVID-19, according to a review by the International Diabetes Federation (IDF), which is headquartered in Brussels, Belgium.
Each year, the federation publishes its IDF Diabetes Atlas, which summarizes the latest data on how the disease is impacting people around the world. 
In the 2022 edition, researchers took a deep dive into the link between diabetes and COVID-19, analyzing 3,799 articles and 91 studies. 
TYPE 2 DIABETES: STUDY PREDICTS 'STARTLING' RISE OF THE CONDITION AMONG AMERICA'S YOUNG PEOPLE
The review found that "poor glycemic control was a risk factor for adverse COVID-19 endpoints."
People with diabetes, in other words, who don't properly manage their blood glucose levels are at a higher risk of experiencing severe symptoms.
"There was a 35-40% increase in the odds of COVID-19 hospitalization and severe illness among adults with diabetes and hemoglobin A1c levels over or equal to 7% compared to those with hemoglobin A1c less than 7%," the publication noted. (The hemoglobin A1c test measures blood sugar levels.)
Among people with diabetes who were hospitalized with COVID-19, having a blood sugar level higher than 10 mmol/L (180 mg/dL) tripled the risk of severe illness — which could lead to outcomes like intensive care, ventilation or even death.
FACE MASKS MADE 'LITTLE TO NO DIFFERENCE' IN PREVENTING SPREAD OF COVID, SCIENTIFIC REVIEW FINDS
Additionally, the Atlas reported that people with type 1 diabetes were more likely to have critical illnesses or die from COVID-19 compared to people with type 2 diabetes.
The IDF wrote that there were some inconsistencies across studies in the methods used to determine whether patients had diabetes.
Weaker immunity heightens risk
As the medical director and surgeon for the Center for Bariatric Surgery at Southwest General in Cleveland, Ohio, Dr. Leslie Pristas treats many patients with diabetes. 
She agreed that diabetes is a strong risk factor associated with more severe disease and a higher risk of death from COVID, primarily because the immune system isn't optimally able to fight off infections.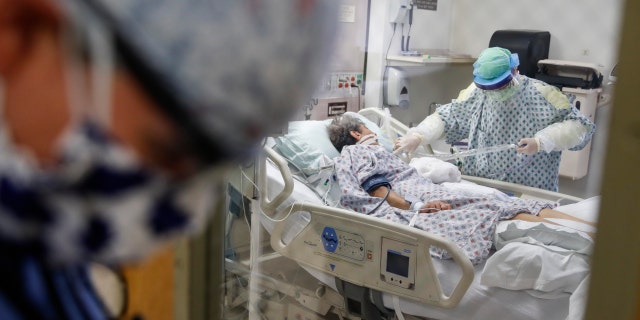 "Diabetes and high blood sugar affect every organ and system in our bodies, but especially the immune system," she told Fox News Digital. 
"With diabetes, people have a higher chronic level of inflammation throughout the body at baseline, so when an infection occurs, the inflammatory response to that infection can be even more severe."
Understanding the types of diabetes
Type 2 diabetes is the most common form, affecting more than 37 million Americans (per the CDC). The American Diabetes Association defines type 2 diabetes as a condition in which the body doesn't use insulin properly. 
"Diabetes and high blood sugar affect every organ and system in our bodies, but especially the immune system."
In some cases, a nutrition and exercise plan can keep blood sugar at a healthy level, but some people may need medication or insulin.
OZEMPIC DIABETES DRUG IS TRENDING AS A WEIGHT-LOSS METHOD — HERE'S WHY AND WHAT DOCTORS SAY
With type 1 diabetes, the body doesn't make enough insulin to move blood sugar into cells, so it continues to accumulate in the bloodstream. 
Only about 5-10% of all people with diabetes have type 1, the CDC states. Treatment includes following a healthy diet and exercise plan, monitoring blood sugar levels and taking insulin on a regular basis.
Minimizing risk
Keeping blood sugar at optimal levels is key to preventing hospitalization or death from COVID. 
"This can be done with diet, but there are also a lot of really helpful medications available," Dr. Pristas said. "If diabetes is well-managed, it might help somewhat, but overall risk is still higher than for someone without diabetes."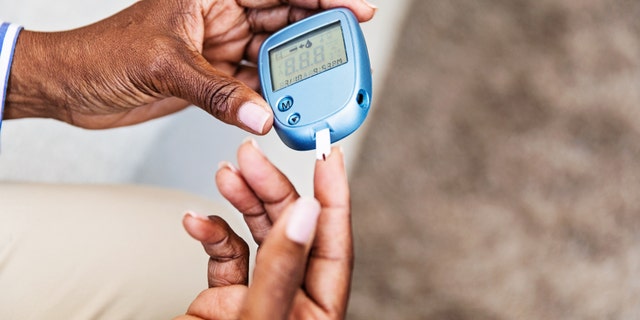 Antiviral medications can also help improve COVID outcomes for people with diabetes. 
Dr. Joseph Iser, the recently retired chief health officer for the Southern Nevada Health District (SNHD), recommended asking a doctor to prescribe a medication that can head off serious complications.
CLICK HERE TO SIGN UP FOR OUR HEALTH NEWSLETTER
Dr. Iser, who has type 2 diabetes himself, tested positive for COVID a few months ago. 
He took an antiviral drug, Paxlovid, to help prevent progression of the disease.
Antiviral medications can also help improve COVID outcomes for people with diabetes.
"[The medication] really helped to bolster my immune system," he told Fox News Digital. 
"I didn't have any significant symptoms, and the symptoms I did have went away after the first 24 hours. I then tested negative at five days, which is very good."
CLICK HERE TO GET THE FOX NEWS APP
COVID and diabetes have been linked in other ways, too. 
Studies have found that people who get COVID have a greater risk of developing diabetes. 
Research published in The Lancet Diabetes & Endocrinology journal in March 2022 showed that people who tested positive for the virus were about 40% more likely to be diagnosed with diabetes within one year, compared to people who did not have COVID.