As avian influenza sweeps the nation — infecting more than 58.3 million poultry and 6,192 wild birds in the U.S. as of Wednesday, per the CDC — infectious disease experts are watching closely.
Dr. Christian Sandrock, division vice chief of internal medicine at UC Davis Health in Sacramento, California, specializes in infectious diseases and has researched avian influenza extensively. 
Although bird flu is contagious, Dr. Sandrock does not think it poses a grave danger to humans.
MAINE WILDLIFE AUTHORITIES FIND 6 DEAD WILD DUCKS THAT TESTED POSITIVE FOR BIRD FLU
"It's predominantly a disease of birds," he told Fox News Digital in a phone interview. 
"It's very common among wild waterfowl all around the world, and it can jump to domesticated birds, particularly turkeys and chickens. It can also infect pigs, swine and many other animals," he said.
That's not to say humans can't catch it. 
Dr. Sandrock confirmed that people can contract bird flu — and it's possible for them to get sick or even die from it — but he said the virus would have to change in some way to become highly contagious among humans.
The contagion risk increases when a strain of avian influenza mixes with another flu virus that is more "human-friendly," a process called genetic reassortment, he said. The end result is a new virus that is stronger and easier to transmit.
REMEMBER THE FEAR ABOUT FLU FLARE-UPS OVER THE HOLIDAYS? DIDN'T HAPPEN, SAYS CDC
"A single virus can go from a bird to a human — but the real threat is when you throw in one or two other viruses from pigs or humans, and that sets the stage," Dr. Sandrock said.
"The influenza virus is excellent at mutating and recombining."
Erica Susky, a certified infection control practitioner based in Canada, doesn't rule out the chance of human transmission. 
"The influenza virus is excellent at mutating and recombining," she said. "If there are repeated contacts between species that can be infected by one type of influenza viral strain or another, there is an increased chance of a novel strain that can adapt to transmission in a different species, such as humans."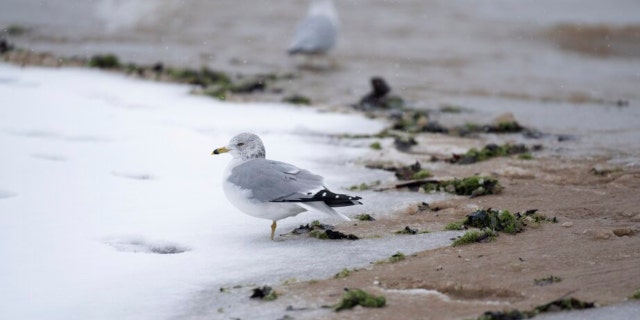 Although it's still rare for humans to catch bird flu, the fatality rate is high if it does happen. 
In a virtual press conference earlier this month, Dr. Sylvie Briand, director of the pandemic and epidemic diseases department at the World Health Organization (WHO), said that when humans are infected, they are more likely to have severe disease. 
Although it's still rare for humans to catch bird flu, the fatality rate is high if it does happen.
"It's between a 30-50% case fatality ratio, but again, those viruses are not very transmissible," Dr. Briand said.
To date, the CDC has identified five strains of bird flu that have infected humans: H5N1, H6N1, H7N9, H9N2 and H10N3. The strain that's currently taking the biggest toll on the bird population is H5N1.
As of publication time, there has only been one human case of H5N1 bird flu in the U.S.
APP FOR BIRD LOVERS GETS PEOPLE OUT INTO NATURE WHILE HELPING BIRD, WILDLIFE CONSERVATION
"Over the past few weeks, there have been several reports of mammals — including minks, otters, foxes and sea lions — having been infected with H5N1 avian influenza," said WHO Director-General Dr. Tedros Adhanom Ghebreyesus during the February press conference.
"H5N1 has spread widely in wild birds and poultry for 25 years, but the recent spillover to mammals needs to be monitored closely."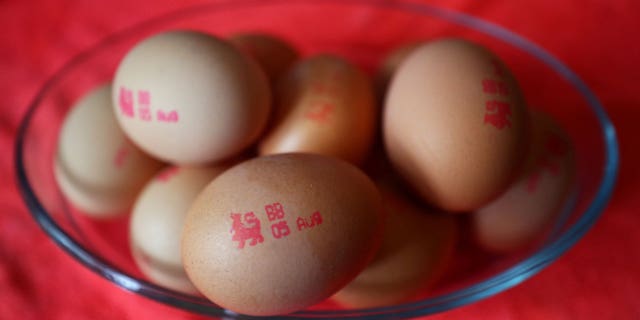 Lisa Steele, a farm owner in Maine who tends her own flock of backyard chickens, has been keeping a close eye on the bird flu outbreak.
"The avian flu is nothing new — it circulates every few years — but generally, it's only during the wild bird migration season," she told Fox News Digital in an email. 
"Last year, the cases continued pretty much all year. It is a bit concerning that the warm weather doesn't seem to result in a reduced number of cases."
People who come across a sick or dead bird should avoid touching it — and contact local authorities. 
The bird flu outbreak has slashed egg production, causing prices to soar to record highs in 2022.
EGG SUBSTITUTES FOR BAKING, COOKING AND EATING AS PRICES SURGE
The U.S. Department of Agriculture reported that by the end of December 2022, more than 43 million egg-laying hens had died as a result of H5N1.
Steps to minimize the spread
Susky said the highest risk of transmission is from direct contact with infected birds during the process of slaughtering and preparing them.
"The best way to minimize risk is to avoid contact with birds and wild animals," she told Fox News Digital in an email. 
The H5N1 strain of avian flu has spread to minks, otters, foxes and sea lions, among other mammals.
"Those working with birds or other animals, such as in agriculture, should be trained in using protective equipment to minimize potential exposure to injury from animals, fluids and aerosols — for example, from soiled bedding and feeds," Susky said. 
"This could include handwashing, proper disinfectants, gloves, aprons, eye protection, boot covers, masks and proper facilities to provide maximum air exchanges."
Because the disease spreads through wild birds and waterfowl, Steele said it's important to keep bird feeders away from chicken coops or poultry houses, or take them down altogether if there are active cases in the area.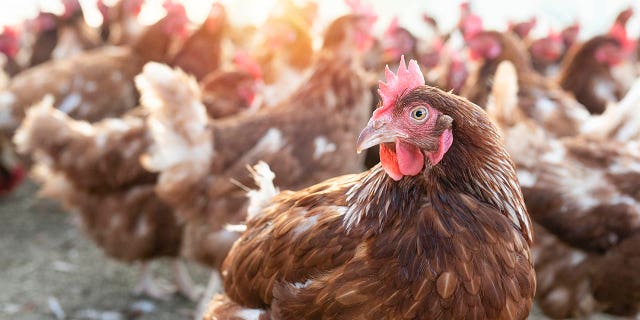 "Backyard chicken keepers should take further precautions, such as keeping their chickens indoors or undercover to protect them from bird droppings, which also can spread the virus," she said.
People who come across a sick or dead bird should avoid touching it and contact local authorities. 
CLICK HERE TO SIGN UP FOR OUR HEALTH NEWSLETTER
"Signs that an animal is in distress include abnormal behavior, being docile around humans, and being found in places they wouldn't normally be," JD Bergeron, CEO of International Bird Rescue in San Francisco, told Fox News Digital.
CLICK HERE TO GET THE FOX NEWS APP
The CDC will continue to update the bird flu data on its website each Wednesday at 2 p.m. EST.