Sunlight is the main source of vitamin D, but depending on where you live, it may be tough to catch some rays during the winter months. 
Luckily, you can get more of this important nutrient right in your own kitchen.
Many foods are naturally rich in vitamin D. 
The Cleveland Clinic lists salmon, tuna, swordfish, sardines, beef liver, egg yolks, fortified milk alternatives, Swiss cheese and fortified yogurt as among the top sources.
VITAMIN D DEFICIENCY LINKED TO DEMENTIA IN CERTAIN POPULATIONS WHEN LEVELS ARE VERY LOW: STUDY
And you don't have to be a cooking connoisseur to reap the dietary benefits.
New York-based registered dietitian Lauren Harris-Pincus suggested something as simple as a mushroom or salmon omelet or a salad with canned salmon and sliced hard-boiled eggs for a vitamin D boost.
Tanya Freirich, a registered dietitian nutritionist in Charlotte, North Carolina, who practices as The Lupus Dietitian, chops up sardines and heats them with balsamic vinegar to serve on top of a salad or with pasta. 
"Sardines are a great source of vitamin D and omega-3 fatty acids, but are also low in mercury compared to other fish," she told Fox News Digital in an email.
HOW SMALL CHANGES IN YOUR DIET CAN RESULT IN REALLY BIG HEALTH PAYOFFS
Some additional ideas include salmon skewers, avocado toast topped with egg, salmon rice bowls, shrimp and spinach salad, and grilled cheese with sautéed mushrooms.
Why is vitamin D important?
The National Institutes of Health defines vitamin D as a fat-soluble vitamin that's absorbed from the sunlight, certain foods and dietary supplements. 
VITAMIN D, OTHER EVERYDAY VITAMINS COULD COUNTER CORONAVIRUS EFFECTS
Some of its main jobs within the body include promoting calcium absorption, building strong bones and reducing inflammation. 
It's also been shown to strengthen the immune system and slow the growth of cancer cells.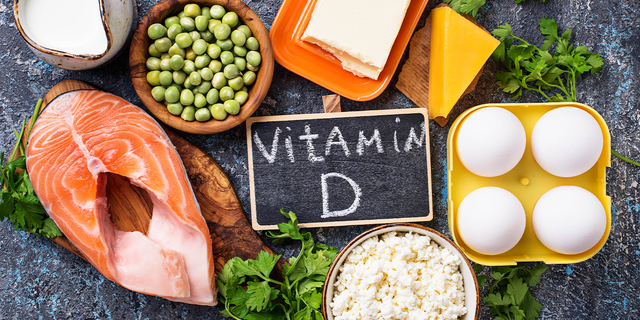 The body creates its own vitamin D when the skin is exposed to the sun, but when that's not possible — such as during the colder, darker winter months — the risk for deficiency increases. 
Around 35% of U.S. adults have a vitamin D deficiency.
"Living in a northern climate, having darker skin or being at an advanced age makes it more difficult to get what we need from the sun, so it's important to consume enough vitamin D through food and/or supplements," Harris-Pincus told Fox News Digital via email.
CLICK HERE TO SIGN UP FOR OUR HEALTH NEWSLETTER
The recommended daily intake of vitamin D is 600 international units (IU) for people up to age 70 and 800 IU for people over 70, per the Mayo Clinic. 
(An IU is just slightly less than 1 microgram.)
Some people may require more based on their health needs.
CLICK HERE TO GET THE FOX NEWS APP
Around 35% of U.S. adults have a vitamin D deficiency, the Cleveland Clinic states. 
Common symptoms include fatigue, weak or aching muscles, mood changes or depression, and fatigue. 
For children, severe deficiency can lead to rickets, a condition where the bones soften and weaken.
Stay tuned for more pieces in Fox News Health's "Be Well" series.