A man in India was involved in a fight — and suffered serious injuries to his skull. 
An unidentified 32-year-old man was involved in a knife fight in Raipur, Chhattisgarh State, India, and nearly lost his left eye, according to news agency Jam Press.
A knife was lodged in the victim's head, reportedly — hitting his cheekbone and severing muscles attached to his eyeball. 
EYE SPY A BIG PROBLEM: CALIFORNIA DOCTOR REMOVES 23 CONTACT LENSES FROM ONE WOMAN'S EYE
Specialists at the Dr. Bhim Rao Ambedkar Hospital in India said a man was admitted on Feb. 5, 2023, in "unbearable pain."
Dr. Nidhi Pandey and Dr. Amrita Verma performed an X-ray and CT scan — and found the shocking result of the knife attack, Jam Press reported.
The blade inside the man's head was reportedly 7 cm, or roughly 3 inches.
WARNING FROM LASIK EYE SURGERY PATIENTS TO FDA: MORE NOTICE OF 'SIDE EFFECTS' IS NEEDED 
It was wedged right behind the man's left eye.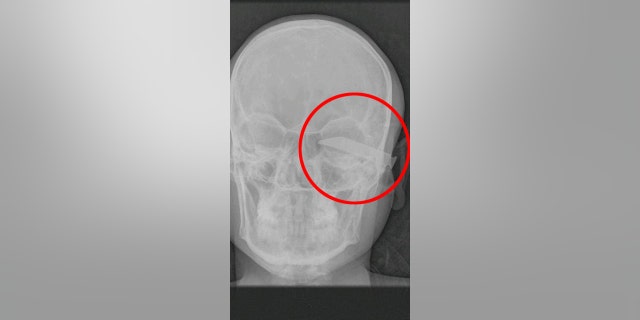 Surgery was necessary in order to safely remove the weapon, the Jam Press report noted.
BLIND MICHIGAN JUDGE DRIVES RACE CAR — AND INSPIRES OTHERS TO FOLLOW THEIR DREAMS, TOO
The doctors managed to remove the knife and preserve the man's eyesight.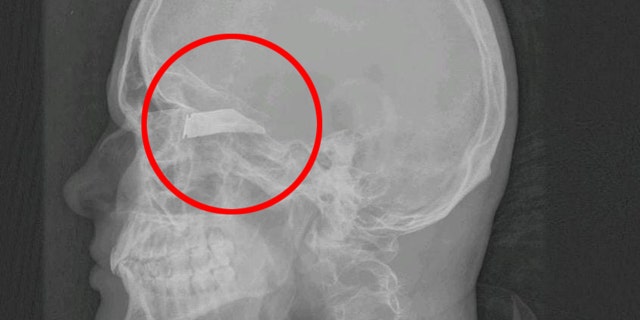 The reason for the fight is unknown, said Jam Press.
CLICK HERE TO SIGN UP FOR OUR HEALTH NEWSLETTER
The man is said to be recovering well post-attack and surgery.